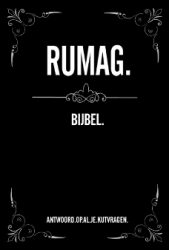 HET LEVEN ZIT VOL VRAGEN. KUTVRAGEN.
EN MEER DAN EENS HEEFT JE BESTIE OF DE SLIJTER HET ANTWOORD.
MAAR WAT ALS DAT NIET HELPT?
WAT ALS NA DE KATER DE VRAAG BLIJFT DOORDREUNEN IN JE HOOFD?
WEL OF NIET NAAR BED MET JE EX?
JE OUDERS BLOKKEREN OP WHATSAPP?
OF ZE GEWOON UIT DE OUDERLIJKE MACHT ZETTEN?
JE TOEKOMST VANDAAG OF VOLGEND JAAR VERKNALLEN?
DE RUMAG BIJBEL WEET RAAD. EN ALS HET ANTWOORD JE NIET BEVALT, WEET RUMAG ÓÓK RAAD.
VOOR IEDEREEN DIE TEGEN EEN STOOTJE KAN
OF EEN BEUK IN HET GEZICHT. (meer…)