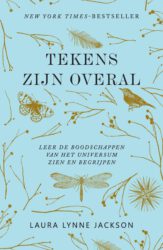 De band die je hebt met je dierbaren verdwijnt niet na de dood. Je houdt niet ineens op met houden van iemand of denken aan iemand. En soms gebeurt er iets, droom je iets, voel je iets waarvan je denkt: zou het? Is dit een teken?
Laura Lynne Jackson is een van de bekendste mediums uit de Verenigde Staten.
In Tekens zijn overal laat ze je zien dat wat we vaak instinctief voelen klopt. Ze vertelt verhalen van mensen die bizarre ervaringen hebben meegemaakt, zoals een moeder die sinds het overlijden van haar zoon overal heten tegenkomt; ze wordt er zelfs midden op de snelweg door gestopt. Of de vrouw die een dollarbiljet ontvangt met de naam van haar overleden man erop geschreven, als teken dat het goed met hem gaat. En het nummer van Elvis Presley dat Laura zelf altijd op de sterfdag van haar vader ergens onverwacht hoort.
Als je ervoor openstaat, dan heb je geen medium nodig om je te vertellen wat je diep van binnen eigenlijk al weet. Tekens zijn overal is een boek vol liefde, hoop en troost.
(meer…)