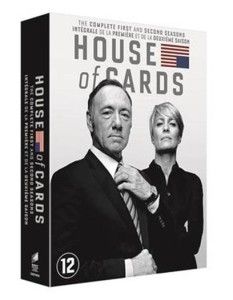 Om de release van de meesterlijke House of Cards set (seizoen 1 en seizoen 2) te vieren is er een unieke info-graphic vrijgegeven waarin alle intriges, relaties en verbanden van de razend populaire hitserie worden weergegeven.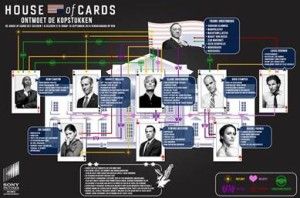 Bekijk nu deze info-graphic (HR versie via downloadlink hieronder).
Bekijk hier de trailer van het eerste seizoen.
En hier vind je de trailer van het tweede seizoen.
In het eerste seizoen zien we hoe het geslepen en genadeloze congreslid Francis (Frank) Underwood (Kevin Spacey) en zijn vrouw Claire (Robin Wright), nergens voor terug wijken om alles te bemachtigen. Dit verdorven politieke drama dringt diep door in de duistere wereld van hebzucht, seks en corruptie in het hedendaagse Washington. Kate Mara en Corey Stoll schitteren eveneens in deze eerste originele serie van David Fincher en Beau Willimon. Het tweede seizoen van House of cards wordt omschreven als meesterlijk, verleidelijk en charismatisch. Francis Underwood (Kevin Spacey) en zijn even ambitieuze vrouw Claire (Robin Wright) gaan door met hun meedogenloze klim naar de macht in het tweede seizoen van "House of Cards". Achter de schermen van macht, seks, ambitie, liefde, hebzucht en corruptie in het moderne Washington D.C., moeten de Underwoods afrekenen met bedreigingen van vroeger en nu. Er ontstaan nieuwe banden en ze laten zich door niets en niemand van hun doel weerhouden.