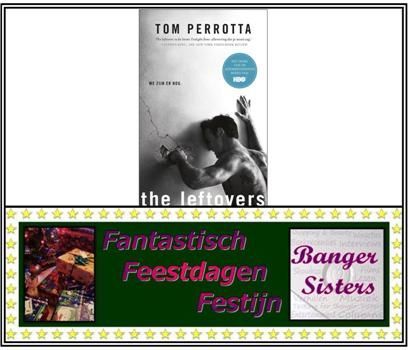 December is bij Banger Sisters een echte feestmaand, want wij vieren deze laatste maand van 2015 ons Fantastisch Feestdagen Festijn! De hele maand december gaan we elke dag prijzen weggeven. Doe je ook mee? Deze keer maak je kans op The leftovers van Tom Perrotta!
The leftovers – Tom Perrotta
Boek bij de nieuwe adembenemende topreeks van HBO, nu ook op Canvas
Wat als over de hele wereld van het ene moment op het andere 140 miljoen mensen plots verdwenen zijn? Zonder verklaring. Ook de inwoners van Mapleton verloren hun buren, vrienden en geliefden tijdens het Plotse Vertrek. Burgemeester Kevin Garveys familie is uiteen gevallen tijdens de ramp: zijn vrouw Laurie heeft zich aangesloten bij de sekte van de Schuldige Achterblijvers. Zijn zoon Tom is gestopt met school en volgt nu een dubieuze profeet, Holy Wayne. Enkel Kevins tienerdochter Jill blijft over – en ze is verre van het voorbeeldige meisje van vroeger.
Uitgeverij: Lannoo
ISBN: 9789401428088
416 pagina's
Prijs: € 19,99
Wil jij kans maken op dit spannende boek? We mogen er maar liefst 5 weggeven!
Stuur een mail met als onderwerp The leftovers van Tom Perrotta naar winnen@bangersisters.nl
Vergeet niet je naam en adres te vermelden, meedoen kan tot 19 december 2015