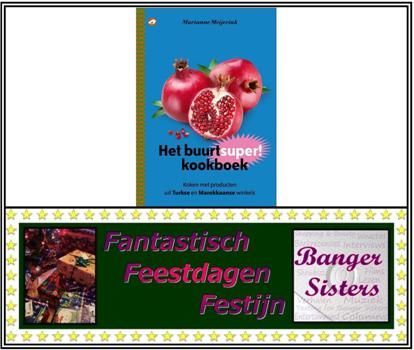 December is bij Banger Sisters een echte feestmaand, want wij vieren deze laatste maand van 2015 ons Fantastisch Feestdagen Festijn! De hele maand december gaan we elke dag prijzen weggeven. Deze keer maakte je kans op Het buurtsuperkookboek van Marianne Meijerink! Heb jij ook mee gedaan? Kijk snel of je hebt gewonnen!
Het buurtsuperkookboek van Marianne Meijerink
In de Turkse en Marokkaanse buurtsuper vind je alles wat jouw culinaire hart begeert. Ga mee op ontdekkingstocht met culinair journaliste Marianne Meijerink (ELLE Eten). Zij legt helder uit wat bijvoorbeeld nigellazaad, okra of aardpeer is en vertelt je wat je ermee kunt doen. Ook de lekkernijen van Turkse en Marokkaanse bakkers, slagers en vismannen komen aan bod. Een aanstekelijk boek vol kleurenfoto's, verhalen en beschrijvingen van producten. Natuurlijk met heel veel heerlijke recepten uit alle windstreken.
Uitgeverij: Orlando
ISBN: 9789492086266
Prijs: € 17,95
Gefeliciteerd Maris van Seggelen, Het buurtsuperkookboek komt jouw kant op!