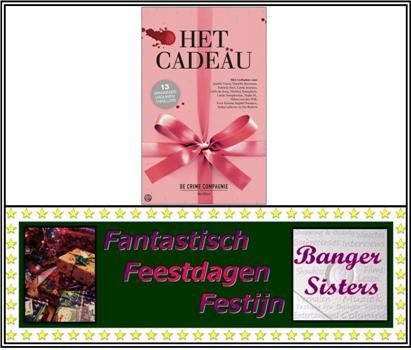 December was bij Banger Sisters een echte feestmaand, want wij vierden deze laatste maand van 2015 ons Fantastisch Feestdagen Festijn! De hele maand december gaven we elke dag prijzen weg. Deze keer maakte je kans op Het cadeau! Heb jij ook mee gedaan? Kijk snel of je hebt gewonnen!
Het cadeau
In november verschijnt het ideale geschenk voor Sinterklaas en Kerst: Het Cadeau. Voor 4,99 euro lees je 13 spannende korte verhalen van van bekende en minder bekende vrouwelijke thrillerauteurs: Judith Visser, Marelle Boersma, Linda Jansma, Patricia Snel, Martine Kamphuis, Carla de Jong, Ingrid Oonincx, Tupla Mourits, Svea Ersson, Milou van der Will, Linda Samplonius, Anita Larkens en Els Ruiters. Verhalen over wraak, liefde, verdriet, zonde en lust. Laat je verrassen door de bizarre, vreemde, humorvolle of juist angstaanjagende hersenspinsels van deze ladies of crime. Wie geeft zal ontvangen!
Uitgeverij: De Crime Compagnie
ISBN: 9789461091598
Prijs: € 4,99
Gefeliciteerd Anita Balemans, Het cadeau komt jouw kant op!