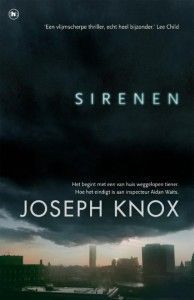 Aidan Waits is een uit de gratie gevallen agent die wordt gedwongen deel te nemen aan een undercoveroperatie nadat hij drugs uit het depot heeft gestolen. Het is zijn taak om de Franchise te schaduwen, een gang die, geleid door hun charismatische leider Zain Carver, drugs verspreidt vanuit het bruisende uitgaanscentrum van Manchester. Maar als David Rossiter, een vooraanstaand parlementslid, de politie benadert omdat zijn dochter van huis is weggelopen om zich aan te sluiten bij de Franchise verandert alles…
In Sirenen begaat agent Aidan Waits een misstap. Hiervoor kan hij worden veroordeeld tot een gevangenisstraf of hij kan kiezen om als undercoveragent te infiltreren in de drugscene. Opdracht is om de 17 jarige dochter van David Rossiter, een belangrijk parlementslid, te vinden. Het meisje is vermist en Aidan gaat zoeken in de richting van de drugsbende The Francise. Aidan komt echter meer tegen op zijn zoektocht dan alleen deze zaak.
Sirenen is in de ik vorm geschreven vanuit Aidan. Dit zorgt ervoor dat je mee wordt genomen in zijn wereld en zijn leven. Het verhaal is in het begin wat onsamenhangend en je vraagt je af waar het naar toe gaat. Eenmaal op weg gaat het verhaal als een trein, het grijpt je aan en laat niet meer los. Sirenen is vanaf dan doorlopend spannend en eindig met een mooie plottwist die je niet aan ziet komen. Een heerlijk thriller die je meezuigt in het verhaal en zorgt voor enkele uurtjes spannend leeswerk.
Uitgeverij: The House of Books
ISBN:  9789044351262
432 pagina's
Prijs: € 19,99