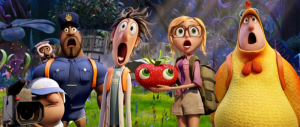 Nu is er Het Regent Gehaktballen 2, het vervolg om van te watertanden!
In dit hilarische animatie-avontuur zien we hoe uitvinder Flint Lockwood dacht dat hij de wereld had gered toen hij zijn beruchte uitvinding vernietigde, een machine die water in voedsel veranderde waardoor het cheeseburgers regende en spaghetti stormde. Maar dan ontdekt Flint dat zijn machine nog steeds bestaat en nu blijkbaar voedsel en dieren combineert in 'voedseldieren': tacodillen, vispansees, flamango's, gehaktbalrussen en nog veel meer. Flint en zijn vrienden moeten nu – nogmaals – de wereld gaan redden…

Naar aanleiding van de Home Entertainment release van Cloudy With A Chance Of Meatballs 2, hebben wij een aantal unieke clips uit de film.
De hoofdrolspelers? De voedseldieren en Barry de Aardbei natuurlijk, het zomerkoninkje in een doosje, favoriet van velen!
Meet Barry: https://www.youtube.com/watch?v=nXdltQpfVfI&list=PLDtxnAQADK6rd6f6-BOxT5RAiIM4Ui55e&index=3
Foodimal Reveal: https://www.youtube.com/watch?v=dplDKHGftFg&index=2&list=PLDtxnAQADK6rd6f6-BOxT5RAiIM4Ui55e
RELEASE OP DVD, BLU-RAY™ (COMBO BLU-RAY™ /DVD) EN 3D OP 14 mei 2014
BEKIJK HIER ALVAST DE TRAILER