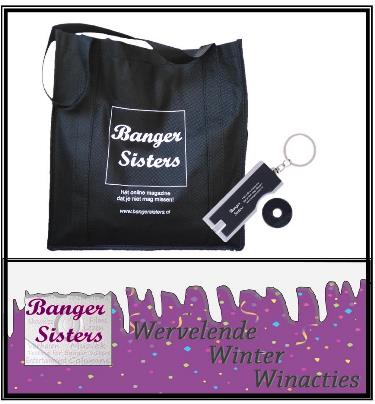 En zo zijn we in de laatste maand van 2018 aangekomen. December, een maand vol feest, gezelligheid en… de winacties van Banger Sisters! Met gepaste trots presenteren wij de Wervelende Winter Winacties. Zo kon je kans maken op een originele Banger Sisters Shop Set. Heb jij ook meegedaan? Kijk snel of je hebt gewonnen!
Geef toe, shoppen doen we natuurlijk het allerliefste, en dat kan nu helemaal in stijl met deze originele Banger Sisters Shop Set met twee handige items die het shoppen nog leuker maakt!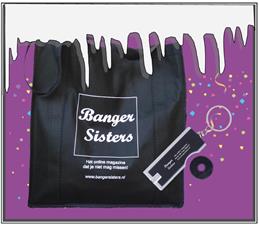 De enige echte, originele Banger Sister shopper is een heerlijke tas, want of je nu boodschappen gaat doen, je boeken terug naar de bieb gaat brengen of een dagje naar het strand; deze fijne tas is veelzijdig in het gebruik. We denken bovendien graag aan het milieu, tegenwoordig krijg je nergens meer een plastic tas, gaan shoppen met de Banger Sisters shopper is dan ook een feest. Je ziet er hip uit en er past ook nog een heel veel in, wat wil je nog meer! Daarnaast natuurlijk de Banger Sisters sleutelhanger, een onmisbare tool in je tas! Voor het boodschappen doen bevat deze handige sleutelhanger een muntje. Nooit meer zoeken in je portemonnee! Kom je 's avonds laat thuis van een avondje doorzakken, dan zit er in deze sleutelhanger een slim lampje, zo kun je handig het sleutelgat (of de weg naar huis) terug vinden. Superhandig dus, deze Banger Sisters Sleutelhanger!
Gefeliciteerd Sjan uit Etten Leur, De Banger Sisters Shop Set komt jouw kant op!
Niet gewonnen? Kijk dan in de Banger Sisters Shop hoe je deze gave Banger Sisters merchandise kan bemachtigen.